Time Transport
is a leading provider of same day freight services in the Milwaukee/Chicago area.
Time Transport has been moving freight efficiently for more than 25 years.
Our fleet consists of 60 semi-tractors and 400 dry-van trailers, hauling freight of all kinds.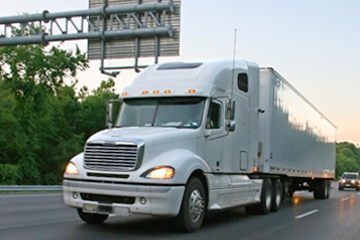 HEAVY HAULERS
We haul heavier weights due to lightweight equipment. This reduces loads and lowers cost per pallet moved. Using Heavy Haulers also reduces emissions because we are reducing the amount of trucks needed to do the same...
Read More
Find out which solution fits you business needs?
OUR CORE VALUES
WRITTEN BY TIME TRANSPORT CEO
---
We are driven by our heritage and the important values that have been passed on from generation to generation. We do business the way we've been taught to live our everyday lives. We take into account the needs of our employees, our long lasting relationships with our customers, and our connection to the community.
Green Initiatives & Goals
---
All our trailers have a fuel efficient design. We plan to continue to spec our trailers to haul at full weight capacity. This reduces the number of trucks and trailers needed to move our freight.
More than 90% of our vehicles run on natural gas and we haven't bought a diesel-powered heavy truck since 2006. We displaced over one million gallons of diesel fuel in 2021, which not only provided a costs savings to us, but also contributed to the healthy environment of our community.
Improve records through electronic systems. Electronic systems promote a significant reduction in paper usage as well as an increased accuracy for records in all facets of our operation.
We will continue to maintain our SmartWay certification. Being a SmartWay Transport partner allows us to benchmark, measure and track our efforts to improve efficiency and reduce our carbon footprint.
We will continue to maintain our Wisconsin Clean Cities member. Our membership prioritizes our utilization of alternative fuel vehicles and clean technology.
Percent Of CNG vs Diesel Fuel
Number Of Vehicles using CNG
About Us
---
Time Transport is a third-generation trucking company, originally established in the 1930's. We are a niche operation consisting of only day-cabs, with all drivers home every day.
Our fleet consists of 40 semi-tractors and 175 dry-van trailers, hauling freight of all kinds.
We employ 45-50 local drivers, mechanics and office personnel in Racine County.
We actively strive to be a contributing member of the community where we work. We are proud of our achievements, including our most recent:
Miller Brewing Company Carrier since 1978
Time Transport and its predecessors have maintained a 32-year carrier relationship with the nation's 2nd largest brewery.
2010 Carrier of the Year (Schneider Logistics)
Our company is among the top 1% transportation companies hauling for Schneider Logistics, the primary broker for MillerCoors.